2019 NHS Inductions
National Honor Society Induction Ceremony at Cedar Catholic
On Tuesday evening, November 12, 2019, Cedar Catholic inducted 15 new members into the Cedar Catholic Chapter of National Honor Society. To qualify for the Cedar Catholic Chapter, students must have a cumulative GPA of 93.0%. Not only are academics important but leadership, character and service are also critical. Once scholarship has been met, students are asked to complete an information sheet listing any leadership roles, service work and honors. Student must be involved in their community, parish and school. Students also write an essay to explain how their service has enhanced their leadership and character. Character of the student is also considered through three letters of recommendation. Again, this recognition is a highly coveted honor.
Congratulations to all new inductees. This is a great honor. The seniors are Brady Steffen, Lucas Reifenrath, Abby Hochstein and Chase Lammers. The juniors are Elly Becker, Sara Burbach, Gracie Dickes, Megan Heimes, Haley Klug, Claudia Stevens, Mackenzie Sudbeck, Skyler Sudbeck, Myles Thoene, Connor Vlach, and Bailey Wuebben.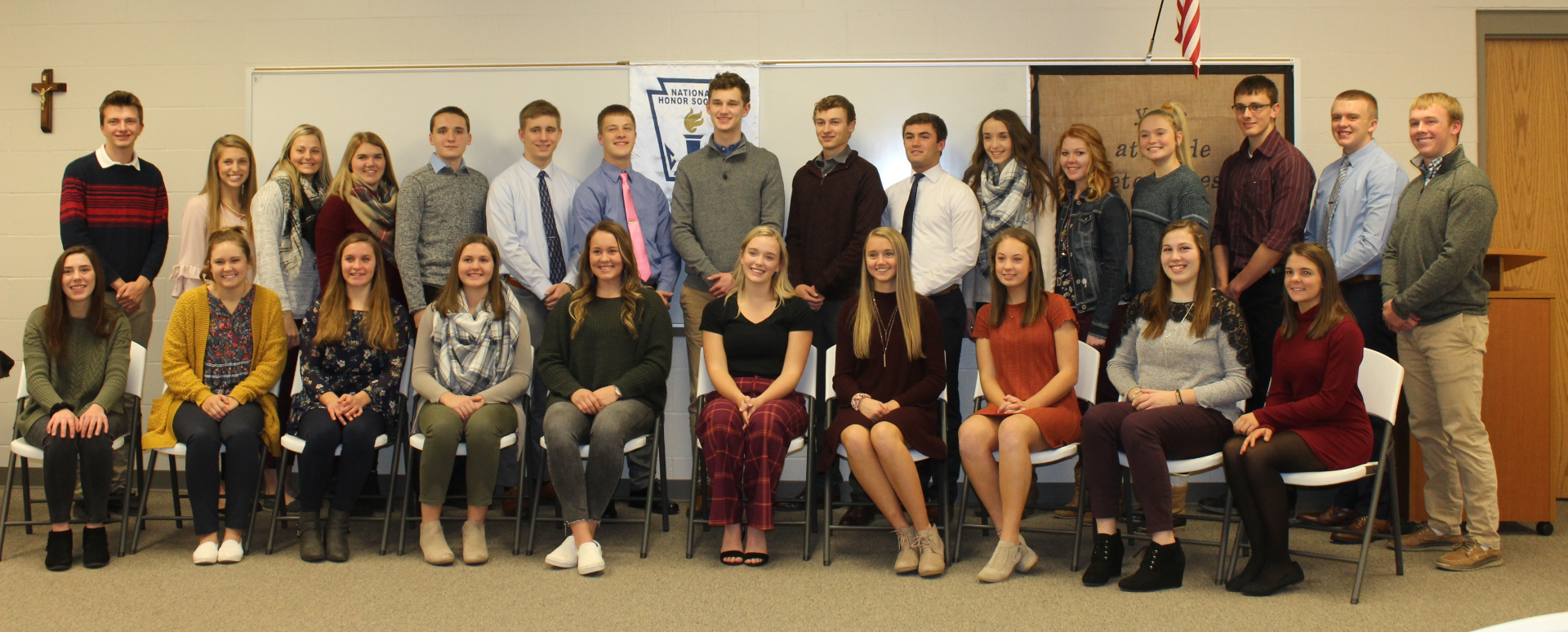 Juniors: (back) (l-r) Megan Heimes, Bailey Wuebben, Skyler Sudbeck, Connor Vlach, Myles
Thoene, Mackenzie Sudbeck, Claudia Stevens.
(front) (l-r) Haley Klug Gracie Dickes, Sara Burbach, Elly Becker.
Seniors: (back) (l-r) Jacob Keiser, Wyatt Weibelhaus, Tori Arens, Brady Steffen, Lucas Reifenrath,
Chase Lammers, Aiden Wortmann, Matthew Rokusek, Ted Bengston.
(front) (l-r) Hannah Kleinschmit, Maizie Christensen, Abby Hochstein, Ann Steffen,
Rebekah Kleinschmit, Jayda Bernecker.