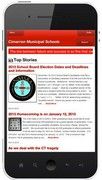 WE'RE NEW, IMPROVED, and MOBILE
Welcome to the new Cedar Catholic web site. We have been working hard for the past few months to redesign the web site, and we will be making additions over the course of the next several weeks and months. The site will continue . . .
In addition to view choices, the mobile view offers additional features like: A responsive design that adjusts to any display size Dynamic imagery with color and photos Collapsible navigation Language . . .