New National Honor Society Members Inducted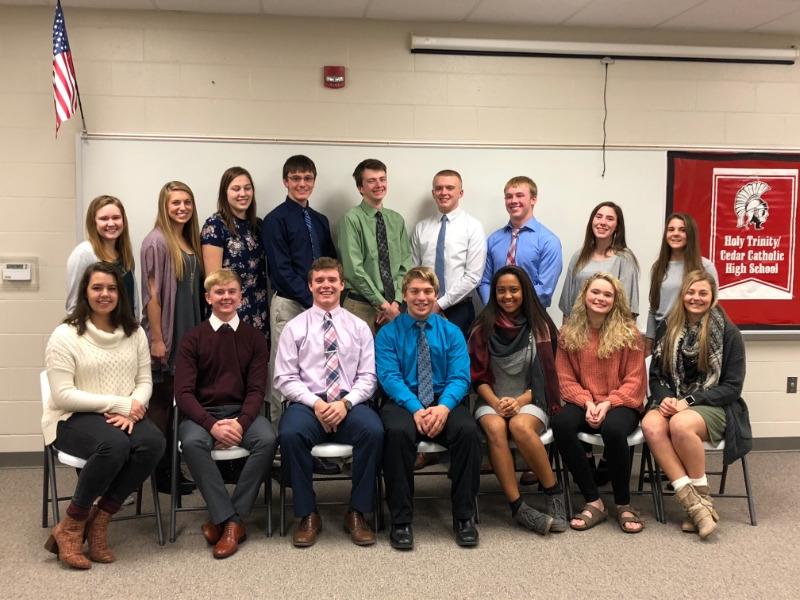 On Tuesday evening, November 13, 2018, Cedar Catholic inducted 16 new members into the Cedar Catholic Chapter of National Honor Society. To qualify for the Cedar Catholic Chapter, students must have a cumulative GPA of 93.0%. Not only are academics important, but leadership, character and service are also critical. Once scholarship has been met, students are asked to complete an information sheet listing leadership roles, service work and honors received. Students also write an essay to explain how their service has impacted their leadership and character. Three letters of recommendation are required of each student to aid in the area of character. Again, this recognition is a highly coveted honor.
Congratulations again to all who were selected. This is a great honor. The seniors are: Jada Cattau, Derek Heimes, Jaron Kleinschmit, Joshua Pinkelman and Gabrielle Steffen. The juniors are: Tori Arens, Ted Bengston, Jayda Bernecker, Maizie Christensen, Jacob Keiser, Hannah Kleinschmit, Rebekah Kleinschmit, Matthew Rokusek, Ann Steffen, Wyatt Wiebelhaus and Aiden Wortmann.